3/09/16 This was a recipe born out of necessity — I was hosting a dinner for friends and had created a beautiful spread, which included an arugula and prosciutto salad topped with walnuts, blue cheese crumbles, and grapefruit segments — but no dressing. After tearing through my fridge and coming to the sad conclusion that I had nothing to dress my salad with, I started to piece a new recipe together. Growing up in an Italian kitchen, my measurements have always been based more on eyesight than exact portions, but the concept of dressing is typically rooted in a ratio…

3/09/16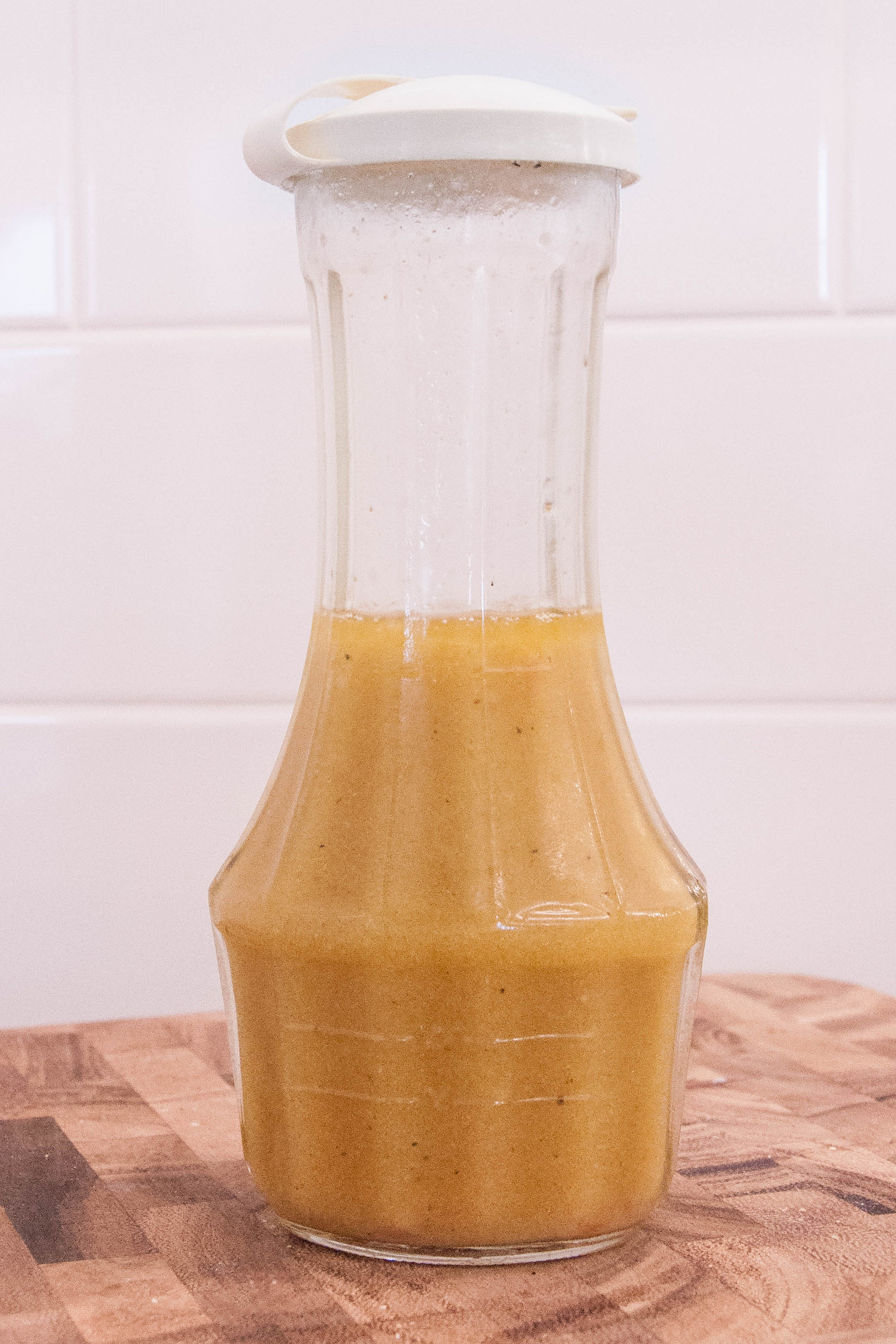 This was a recipe born out of necessity — I was hosting a dinner for friends and had created a beautiful spread, which included an arugula and prosciutto salad topped with walnuts, blue cheese crumbles, and grapefruit segments — but no dressing. After tearing through my fridge and coming to the sad conclusion that I had nothing to dress my salad with, I started to piece a new recipe together.
Growing up in an Italian kitchen, my measurements have always been based more on eyesight than exact portions, but the concept of dressing is typically rooted in a ratio of one part acid to two parts oil. Using this knowledge, I created my dressing with extra-virgin olive oil as the base. Since grapefruit was on hand for the segments in the salad, I used the remainder for the juice and added in the health powerhouse of apple cider vinegar for a kick. Layers of flavor come from organic honey, a bit of dijon mustard, and a finely chopped shallot, with Himalayan pink salt and pepper for the finishing touch.
The result is a light, citrusy sweet dressing with just enough tang and a complex flavor. Apple cider vinegar and grapefuit have metabolism-boosting properties that aid in weight loss, while MUFAs (healthy fats) in the olive oil help protect your heart and lower your cholesterol, all while helping your body absorb nutrients from the veggies you're dressing.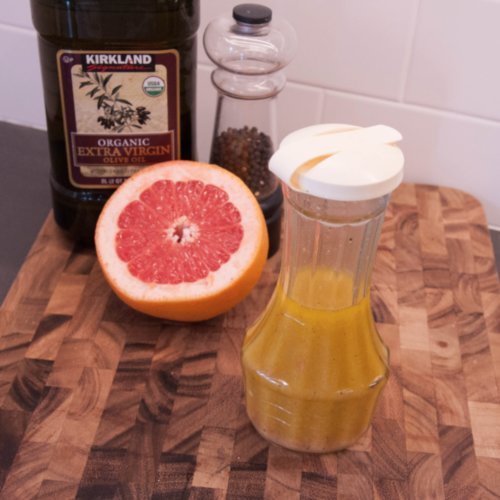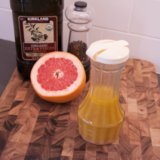 Ingredients
2/3 cups extra-virgin olive oil
Juice from half a fresh grapefruit, squeezed (should yield about 1/4 cup)
3 tablespoons apple cider vinegar
1 tablespoon honey
1 tablespoon dijon mustard
1 teaspoon minced shallot
Coarsely ground salt and black pepper, to taste
Directions
Juice the grapefruit into a mixing bowl, careful to avoid seeds (pulp is fine — it adds a nice texture!).
Add in your apple cider vinegar and olive oil, and whisk until smooth.
Measure out and mix in honey and dijon mustard; whisk them in until smooth.
Finely mince shallot.
Mix in shallot, salt, pepper, and whatever seasoning you prefer, to taste.
Pour your dressing in the container of your choice, shake it up, and chill it, or dress your salad immediately.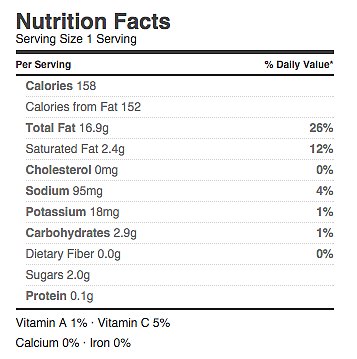 Source: Calorie Counter
Information
Category

Condiments/Sauces, Dressings

Yield

Approximately 1 cup of dressing, or 8 2-tablespoon servings

Cook Time

About 5 minutes
Nutrition
Calories per serving

158 calories in 2 tablespoons
Image Source: POPSUGAR Photography / Dominique Astorino
POPSUGAR, the #1 independent media and technology company for women. Where more than 75 million women go for original, inspirational content that feeds their passions and interests.
Source: Try This Healthy ACV and Grapefruit Salad Dressing : PopSugar