4/15/16
Paleo dieters craving a big bowl of stir-fry will find delicious comfort in this fresh, bright, and satisfying cauliflower "rice" recipe. Beyond being a Paleo-friendly offering, this grain-free stir-fry has zero cholesterol, is low in sodium, and offers your entire daily recommended intake of vitamin A and vitamin C in just one meal. While this recipe requires a decent amount of chopping in the kitchen, once the prep is done, the cook time is under 15 minutes — just trust me on this one, the healthy result is well worth the effort.
Related: 18 Recipes That Prove Cauliflower Can Do Just About Anything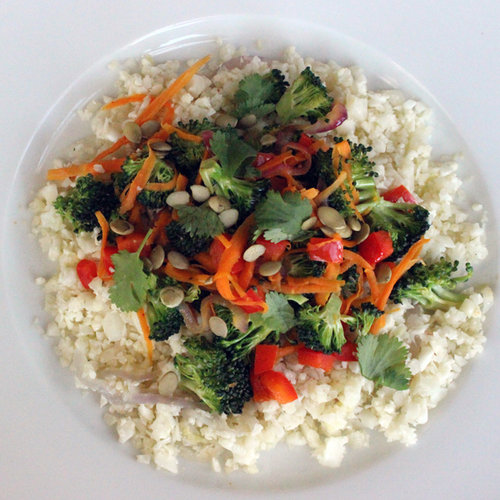 Notes
This versatile "rice" goes far beyond your favorite stir-fry. Stop after step two, and let the cauliflower serve as a simple, light side to complement any main.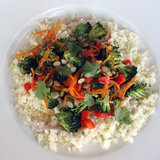 Ingredients
2 cups cauliflower florets (one large head)
2 tablespoons coconut or extra-virgin olive oil, divided
1 sliced red onion, divided
4 minced cloves garlic, divided
Coarse salt
1/4 cup low-sodium vegetable broth
1 tablespoon minced fresh ginger
1 thinly sliced small red chili
2 cups broccoli florets
1 julienned large carrot
1/2 red bell pepper, stemmed, seeded, and diced
Juice of 1/2 lemon
2 tablespoons shelled pumpkin seeds
2 tablespoons fresh cilantro leaves
Directions
Pulse cauliflower florets in a food processor until finely chopped.
Heat one tablespoon coconut oil in a large skillet over medium heat. Add 1/2 sliced red onion and two minced cloves garlic and cook, stirring, until tender, about six minutes. Add cauliflower and season with coarse salt.
Stir in vegetable broth and steam, covered, until broth has evaporated and cauliflower is tender, about six minutes. Transfer to a bowl and cover.
Wipe pan and heat one tablespoon oil over medium-high heat. Add 1/2 sliced red onion and cook, stirring, until tender, about five minutes. Add two minced cloves garlic, ginger, and chili and cook one minute.
Add broccoli florets, carrot, and bell pepper and cook, stirring, until tender, about five minutes. Season with a sprinkle of salt. Remove from heat and add lemon juice.
For each serving, top cauliflower with vegetables and sprinkle with one tablespoon pumpkin seeds and one tablespoon cilantro.
Serves two.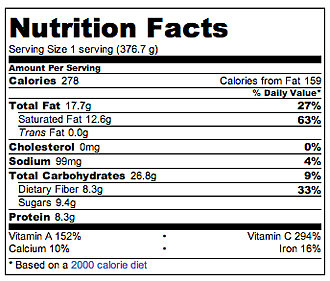 Information
Category

Main Dishes
POPSUGAR, the #1 independent media and technology company for women. Where more than 75 million women go for original, inspirational content that feeds their passions and interests.
Source: Paleo Perfect: Cauliflower "Rice" Stir-Fry : PopSugar