The following post was originally featured on Delish Knowledge and written by Alex Caspero, who is part of POPSUGAR Select Fitness.
Vietnamese Tofu Spring Rolls! You will love these healthy salad rolls, stuffed with crispy peanut tofu, shredded cabbage, carrots, mint, cilantro and vermicelli noodles. Served with a spicy peanut-lime dipping sauce. Vegan and easily gluten-free.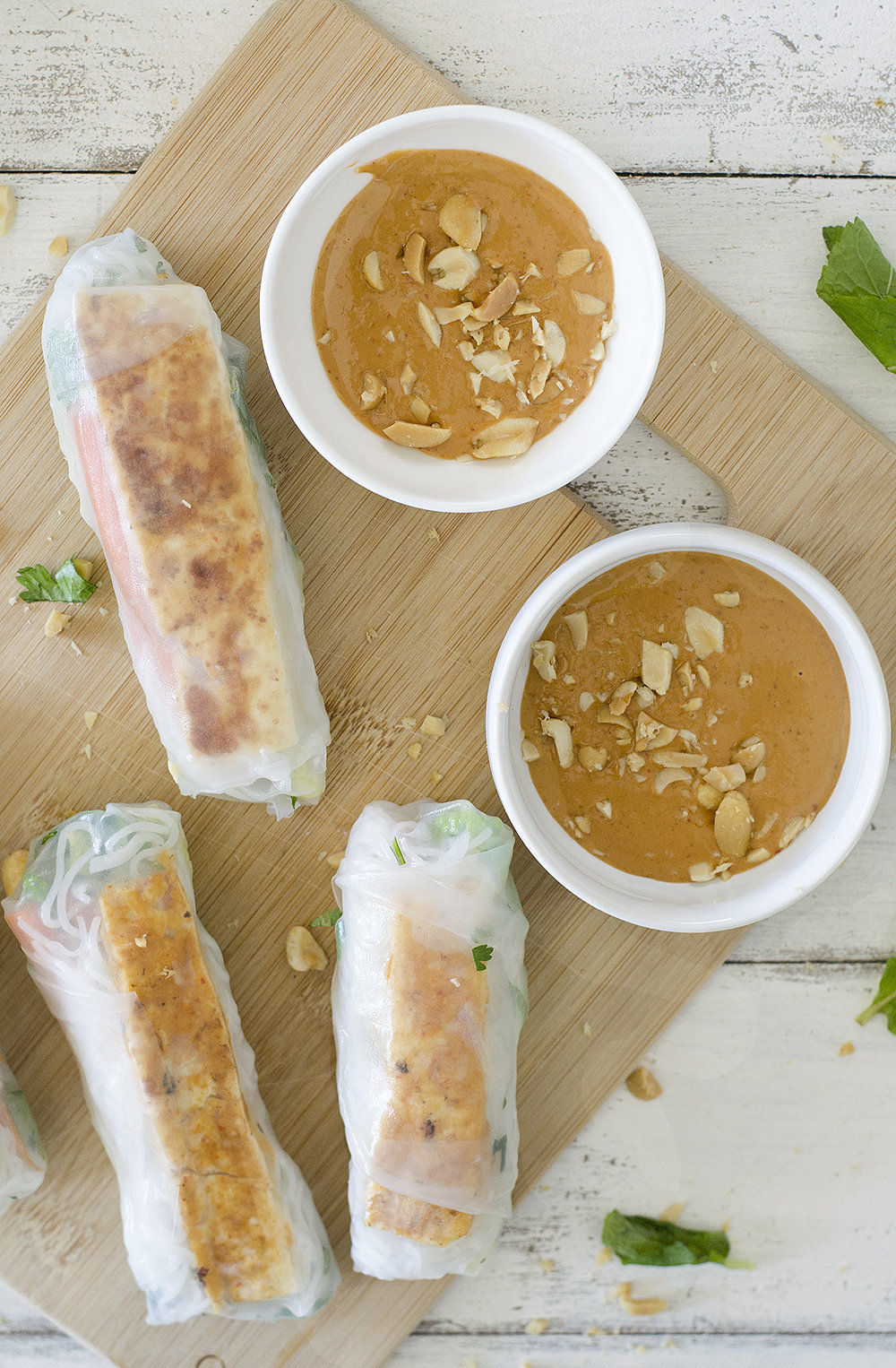 It's always amazing to me, the power of perception. Monday seemed to come crashing down on me; after losing both personally and professionally I wanted nothing more than to crawl back into bed and start the week after. Then I woke on Tuesday to the news from Brussels and my problems were instantly dwarfed in significance. Zapped back to reality through one, unfathomable event.
I've spent the better part of a decade living in one of the most beautiful climates, with temperatures never dipping below 50 even in the dead of winter. I didn't give any thought to the weather during those years, just always expected some version of sunny and either warm, hot or sweltering. That perception was instantly challenged the moment we moved to the middle of the country where Winter seems to never end.
So, last week when temperatures hit 65 and the sun was shining, I wanted nothing more than to drop what I was doing and bask in the Spring glow. We put out our patio furniture, turned on the grill for the first time and pretended — just for a moment — that we were back in California, enjoying an impromptu cookout on our deck.
Though it started raining the very next day, I wanted to keep my bright mood going with these fresh spring rolls. I really need to make these more often. They are so effortless to put together and are the perfect light meal when I'm still craving big, bold flavors.
I associate fancy family dinners with Vietnamese food, which is an odd statement to say the least from an Danish/Italian child who grew up in the South. But, while my mom was a fantastic cook, she didn't know her way around an Asian kitchen. So, on very special occasions (like good report card days), we would head out to to neighboring towns Vietnamese restaurant and order like kings.
In the 10+ years of going there, I'm fairly certain I ordered the same thing every time: a shirley temple with extra cherries, spring rolls and the vermicelli bowl. I don't know if it's really as good as I've imagined or time has made it that way, but I remember feeling so fancy wolfing down my oversize bowl of thin noodles, shredded vegetables, pork and the best spicy peanut sauce. Every bite of these spring rolls is in tribute to that meal and those memories.
While I think spring rolls are fairly easy to assemble, you'll want to have all of your fillings chopped and ready to go ahead of time. You can save time by using pre-shredded cabbage and carrots, or swapping in whatever vegetables you have on hand. I think red bell peppers would also taste great in these rolls! Use a damp paper towel for lining the prepared rolls so they don't dry out and crack. They taste best when enjoyed right after making! Once you've rolled the your Spring rolls, enjoy any leftover filling and sauce like a salad.
Like most things around here, please accept my liberal interpretation of Vietnamese cuisine. I made these rolls out of what I remembered that meal to taste like, not any authentic version. But, it really doesn't matter. They are so good, so meaty and so filling that my food memory can easily become your food memory.
Ingredients
1 lb. firm tofu, drained, rinsed, and pressed
1 packed cup shredded Napa cabbage
1 packed cup shredded carrots
1/4 cup chopped fresh cilantro
1/4 cup chopped fresh mint
2 cups cooked vermicelli noodles (or thin rice noodles)
12-15 rice paper wrappers
Spicy Peanut-Lime Sauce
1/4 cup peanut butter
3 tablespoons soy sauce
1-2 tablespoons Sriracha
1 tablespoon hoisin sauce
1 small lime, juiced
1 tablespoon hot water
Directions
Whisk together all ingredients for the peanut-lime sauce and set aside.
Drain and press the tofu.
Heat a large cast-iron or nonstick pan over medium heat.
Slice the tofu into slabs so they can lay flat on the rice paper rolls.
Place the tofu in a single layer on the skillet and cook for 2-3 minutes until golden brown. Remove from skillet and brush peanut sauce in a thick layer on one side.
Prep the vegetables, tofu, and noodles.
To assemble Spring rolls, pour very hot water into a shallow dish and place 1 rice paper in to soften for about 10-15 seconds.
Move to a cutting board and spread out into a circle. It's OK if it rips a little but if it rips too much, get a new one and start again.
Layer the tofu (sauce side down), noodles, cabbage, carrots, mint, and cilantro on the bottom third of the paper. Gently fold over once, tuck in edges, and continue rolling until seam is sealed. (Like a burrito!)
Place seam-side down on a serving platter and cover with damp, warm towel to keep fresh. Repeat until finished; you should have about 12-15 Spring rolls total.
Serve with remaining peanut-lime sauce.
Leftovers store well individually wrapped in plastic wrap, though taste best when fresh.
Information
Category

Appetizers

Cuisine

Other Asian

Yield

Serves 12-15 rolls

Cook Time

26 minutes
Source: Vegan, Gluten-Free Appetizer Spring Rolls, Vietnamese Style : PopSugar